Steel Wheels Bike Rack - BR30 and BR31 Series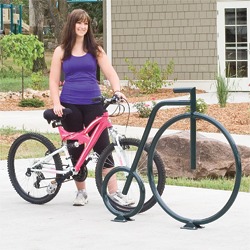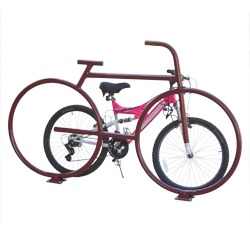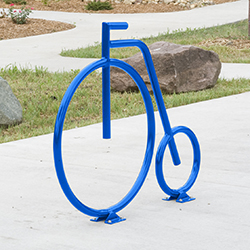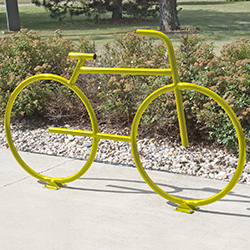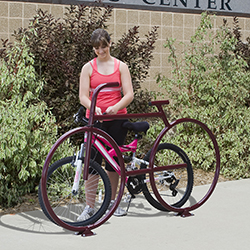 Price Per Unit Starts At:
The bicycle shape is something everyone will recognize for bike parking. Each rack can support the bicycle in two places. All types of locking devices may be used.
The design of Model BR30 is reminiscent of the original bicycles with one big wheel in front and a small wheel in back. It parks 2 bikes. Dimensions: 41" high x 5-1/2" wide x 50" long.

The design of Model BR31 is that of a "modern day" bicycle in which both wheels are the same size. It parks 2-4 bikes. Dimensions: 45" high x 5-1/2" wide x 76" long.
Specifications:
MATERIALS: Fabricated using 1.66 inch OD x 10 ga. wall steel tube for the bike shapes with 3/16" thick steel angles welded to each wheel providing 8 anchor points per rack for a stable and secure location. All welded assembly.
INSTALLATION: Surface mount installation only. (Anchor bolts not included)
FINISH: Powder coated in your color choice. See Material Options.

OPTIONAL: Model ANC1-4 Set of four 1/2" x 3" concrete screw anchors. Order (2) sets of anchors per rack.
Model
Number
Number
of Bikes
Finish
Dimensions
H x W (inches)
Installation
Optional
Anchor
Kit
BR30/C*
2
Powder
Coated
in your
color choice
41 x 50

Surface Mount
(8) anchors required
per rack (not
included).
9/16" diameter
mounting holes.

Order (2)
#ANC1-4
set of (4)
1/2" x 3"
concrete screw
anchors.
BR31/C*
2-4
45 x 76