FSDW-30 Accessible Campfire Ring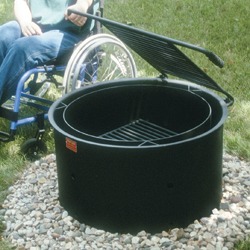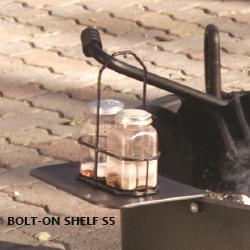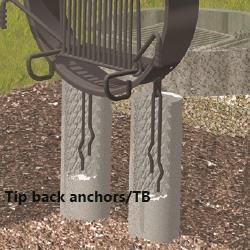 Model FSDW-30/18/TB accessible campfire ring offers a full-height outer ring as a heat barrier for the inner ring. One inch diameter draft holes feed air into the space between the rings. This unit does not require aggregate fill because it is equipped with a fire/log grate inside the fire ring. This campfire ring is designed to accommodate a person in a wheelchair, but all campers will find this fire ring a versatile complement to their campsite. Tip back anchor pins secure the unit in place. Anchors must be set in concrete.

Fabrication includes a 1/8" thick steel outer ring with the formed reinforcing flange, and a 3/16" thick steel inner ring. Both rings are 17-3/8" tall. The 370 sq. inch single level cooking grate is permanently hinged to the outer ring. Inside is the large 380 sq. inch log grate. This log grate is hinged to the inner ring and tips up to simplify ash clean out. The cooking and fire grates are fabricated using 5/8" dia. perimeter and handle bars with coiled steel bar grips, and 1/2" dia. grate bars. All grate bars are welded on both sides. This campfire ring is finished with high temp non-toxic black enamel paint.

OPTIONAL: Bolt-on utility shelf Model S5

California's Proposition 65.
You May Also Like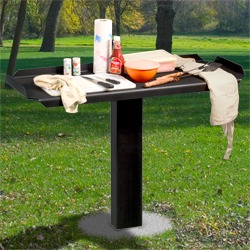 Model ULT-2 Utility Table
SKW: ULT-2::
18" x 48" table on a single embedded or surface mount pedestal.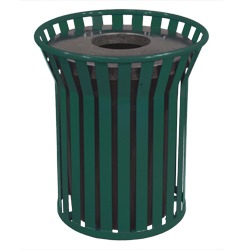 Round Receptacle - Vertical Steel Straps
SKW: CN-R/SS2
Designed to hold most available 30-36 gallon liners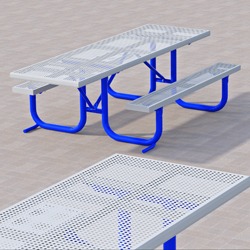 XT and XTH Series End Accessible Picnic Table - Using Steel Tops/Seats
SKW: XT::
Extra strong table with ADA compliant end wheelchair accessible using steel component tops/seats.