H-16 B6X2 Series Charcoal Grill - BUY NOW
Price Per Unit Starts At:
Model H-16 B6X2 charcoal grill features a cooking grate that adjusts to 4 levels, plus it tips up for easy fire building and clean out. The grate stays permanently attached to the firebox.
The firebox rotates 360 degrees in either direction on a theft-proof swivel attachment and stands on a 2-3/8" OD two-section post for embedded installation (B6X2).
Welded construction: 3/16" thick (7 ga.) steel grill firebox with die-formed reinforcing flanges; 5/8" dia. steel perimeter and handle bars, 1/2" dia. grate bars. All grate bars are welded on both sides. Entire grill is finished with high temp nontoxic black enamel paint.
Side indentations support the grate in 4 locations and minimize side openings for superior draft protection. Coiled 1/8" x 1/2" steel bar handle grips for convenient grate adjustment.
Ships in one box.

California's Proposition 65.
You May Also Like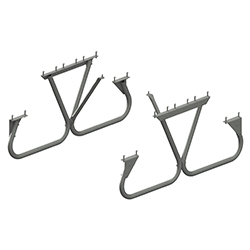 BTUG Series Picnic Table Frame Kit - Lighter Duty - BUY NOW
SKW: BTUG
Lighter weight, pre-galvanized, bolt together steel frame.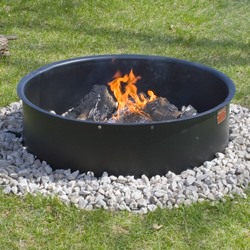 FX-30/9 Campfire Ring No Grate - BUY NOW
SKW: FX-30/9
Campfire Ring Only - 9" tall, with 30" inside diameter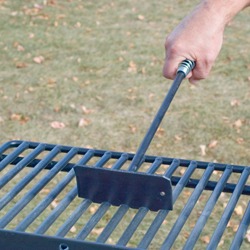 Grill & Grate Scraper GGS/B-1 - BUY NOW
SKW: GGS/B-1
Grate scraper for cleaing off your grill - Model GGS/B-1