Q-20 Add-On Grill Cover - BUY NOW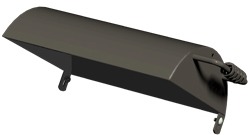 Price Per Unit Starts At:
Add a grill cover to your existing Pilot Rock Q-20 grill to protect your grilling from the elements and hold in smoke and heat. Comes with coiled steel handle.
Model GC/B-1: 20" wide hinged cover in black enamel paint. Available on: Model Q-20 Grill.
NOTE: This grill cover cannot be used with the optional S3 bolt on utility shelf (because the shelf bolts to the back of the grill firebox and will interfere with the grill cover when it is opened).

California's Proposition 65.