3-Level Steel Jump Hurdles for Dogs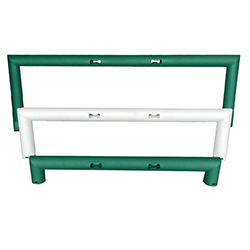 Model DPE-DOGI7523 3-Level Steel Jump Hurdles
(3) hurdles, 11 ga. x 3 in. OD steel tube.

Textured powder coat finish: (2) green, (1) beige.

(6) in-ground mounting posts with powder coat finish.

Dimensions (installed): #1: 41 in. wide x 6 in. high; #2: 48 in. wide x 12 in. high; #3: 55 in. wide x 18 in. high.

Weight: 90 lbs.
What about the people the dogs bring with them? CLICK HERE to learn more about comfortable site amenities for the human element in the dog park.

Note: Products include in-ground mounting hardware. Follow manufacturer's installation instructions. All products must be securely installed in-ground or surface mounted to concrete (using your own hardware). This equipment is not intended for use by people. This equipment is solely intended and designed for dog use only. Warranty provided by Dogi-Pot: (2) years on fabrication, (5) years on Ruffcoat™ and thermoplastic coating. Made in the USA. DogiPot, Ruffcoat and "Playgrounds For Dogs" are trademarks of the DogiPot Company.
You May Also Like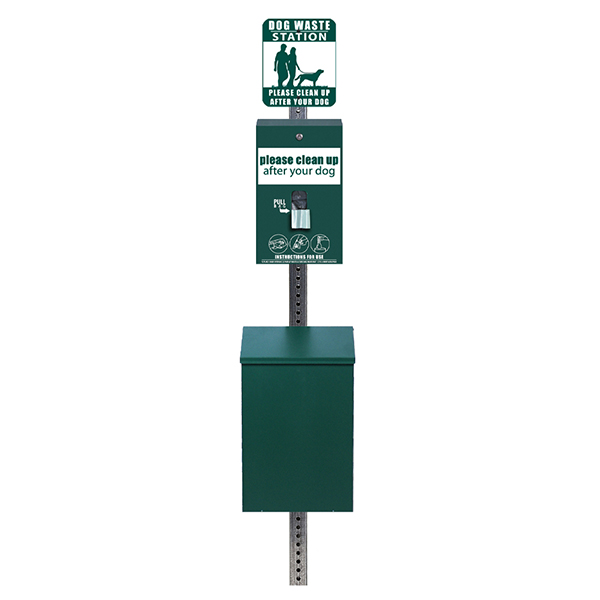 Pilot Rock Pet Waste Collection Station - Bags On a CARD Complete Station PWS-D022.
SKW: PWS-D022
Complete Pilot Rock pet waste collection station using collection bags on a card.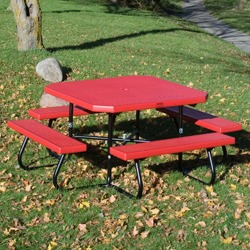 SQT-4 Series Portable 48" Square Picnic Table - Using Perforated Steel
SKW: SQT
A portable 48" square table available using thermo-plastic coated H-Type perforated steel.