Snow Load/ Extreme Load Rated Multi-Pedestal Picnic Table - APT Series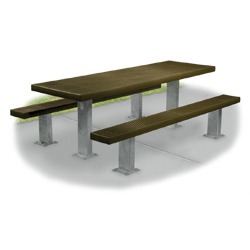 Price Per Unit Starts At:
Model APT Multi-Pedestal Rectangular Picnic Tables provide a secure, permanent location which prevents theft. Tables using V-Type expanded steel and H-Type perforated steel tops and seats have been designed to withstand high elevation snow loads as well as other extreme weight loads. These picnic tables can be 6 or 8 ft. long with two full-length bench seats, 30" table height and 18" seat height (nominal dimensions).



Specifications:

LOAD RATING: The APT tables have been designed to withstand high elevation snow loads as well as other extreme weight loads. They have been independently tested and rated by an independent lab and a state university and are rated to withstand weight loads up to 1420 lbs. per square foot. In order to achieve this weight rating, these steel frame tables must be equipped with our V-Type expanded steel or H-Type perforated steel top and seat structures. Remember...the rating is Per Square Foot NOT per table!

FRAME: Two heavy pedestal posts of 3" x 6" x 1/8" wall rectangular steel tubing to support the table top and each seat. Exposed ends of frame posts are sealed with welded on end caps. Model APT/P frame posts have 1/4" x 8" square steel bolt down base plates welded on (anchor bolts not included). Use ANC1-4 Concrete Anchor Kit.

FINISH: Standard finish: hot dip galvanized after fabrication for maximum protection from elements. Or choose a powder coat finish (in place of galvanized finish) in your choice of color.

LENGTH: 6 or 8 ft long.

TOP/SEAT MATERIAL: Our V-Type 3/4-#9 expanded metal or H-Type 14 ga. perforated steel thermo-plastic coated in your choice of color. See Material Options.
You May Also Like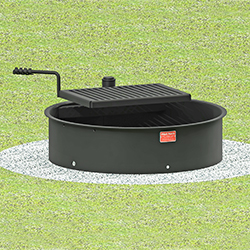 FSW/SL-30 SNOW LOAD Rated Swivel Grate Campfire Ring
SKW: FSW/SL-30
This Campfire Ring features a swivel grate that is snow load rated to 569 lbs. per sq. foot
Heat Shield for Picnic Table Top
SKW: HS-TB/G
Protect Picnic Table Tops from Hot Grills and Pots.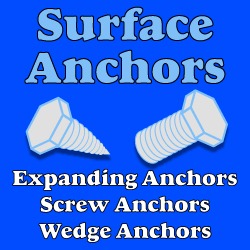 Model ANC1-4 Anchor Kit
SKW: ANC1-4
Four 1/2" x 3" Concrete Screw Anchors