PQT-4 Series Square Pedestal PicnicTable - Using Expanded or Perforated Steel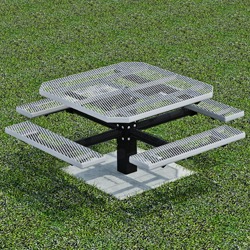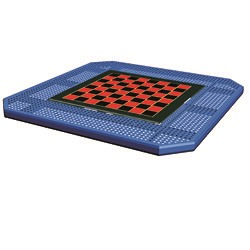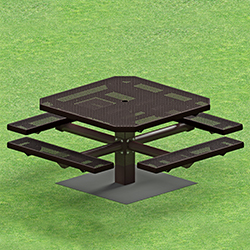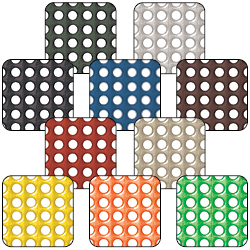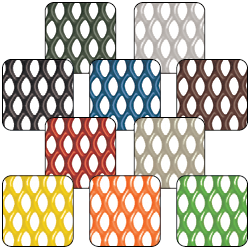 Model PQT-4 Pedestal Picnic Tables provide a secure, permanent location plus a square seating pattern that fully utilizes the table top: better visual contact, more conducive to conversation, an ideal game or craft table, good for children or adults. The single, central support post simplifies maintenance under and around table.

Umbrella hole/cup/collar is standard on this table. For optional umbrella, see Accessories.

Specifications:

Model PQT-4 Picnic Tables have a 48" square top. Each picnic table includes 4 bench seats, 32" table height, 20" seat height (nominal dimensions).

FRAME: Supported by one central, massive 5-3/8" sq. steel post. Seat arms are 3-1/2" dia. steel tube and are designed to resist lateral torsion and deflection. Assembly points all fasteners to inside of central post so carriage bolt nuts are not exposed. Installation of top prevents access to inside of post. Embedded installation is standard. Model PQT/P-4 has a 3/8" X 16" sq. steel bolt down/surface mount base plate (anchor bolts not included). Use Model ANC5-4 Anchor Kit.

FINISH: Standard finish: hot dip galvanized after fabrication for maximum protection from elements. Or choose a powder coat finish (in place of galvanized finish) in your choice of color.

SIZE: 48" square table top.

TOP/SEAT MATERIALS:
• Thermo-plastic coated V-Type 3/4-#9 expanded steel
• Thermo-plastic coated H-Type 14 ga. perforated steel
See Material Options.
OPTIONAL: Game Board Table Top. The Game Board insert is 14 ga. steel powder coated black. After the vinyl game decal is applied, the insert is sealed with a clear coat finish. The standard game decal is red/black checkerboard. Note: With this option, the umbrella hole/cup/collar is omitted.