T200 Series - Round, Portable Picnic Table With CURVED Seats - Using Perforated Steel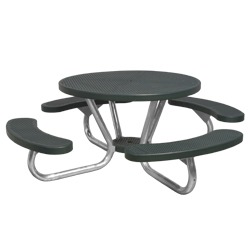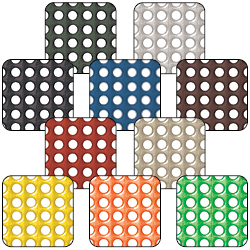 Price Per Unit Starts At:
Series T200 Round Picnic Tables are a perfect fit for malls, patios, pools, decks, restaurants, cafes, rec centers, common areas, schools, golf courses, hotels, streetscapes, … any casual place where people gather.
Model T204 Picnic Tables have 4 flat, curved seats, 10" X 40" (nom.) which provide enough seating for up to eight people.
Series T200 Picnic Tables include an umbrella hole in the top designed to accept umbrellas with 1-1/2" OD poles. The umbrella is optional. See Accessories.
Specifications:
FRAME: Bolt-together 2-3/8" OD x 12 ga. steel pipe frame supports bolt to a center hub. Each seat is supported by 1 frame support. All fasteners for assembly are included.
FINISH: Standard finish: hot dip galvanized after fabrication. Or choose a powder coat finish (in place of galvanized finish) in your color choice.
SIZE: 48" dia. (nom.) round table top with 4 flat, curved seats.
TOP/SEAT MATERIALS: Our R-Type 14 ga. perforated steel thermo-plastic coated in your choice of color. See Material Options.

OPTIONAL: Game Board Table Top. The game board insert is 14 ga. steel powder coated black. After the vinyl game decal is applied, the insert is sealed with a clear coat finish. The standard game decal is red/black checkerboard.

You May Also Like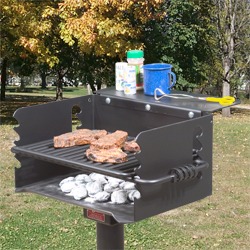 Q-20 Series Charcoal Grill
SKW: Q-20
This grill features a 300 sq. inch grate that tips up & allows for easy fire building and clean out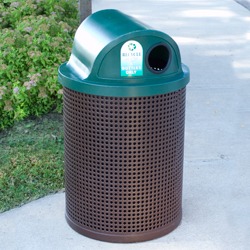 Round Receptacle - Perforated Steel
SKW: CN-R
Fabricated using perforated steel and available in 3 sizes.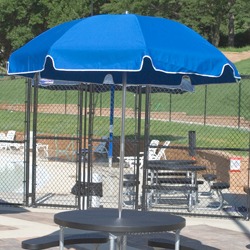 Umbrellas
SKW: UM
Shade for square and round tables available in 3 styles and many of colors. CLICK TO SEE MORE.