Lid - Round Plastic Dome With Arched Door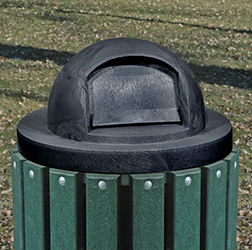 Price Per Unit Starts At:
Model CN-4455 Round Plastic Dome Lid with an Arched Door has a self-closing and spring loaded hatch. It is available in 3 colors.
NOTE: This lid has been discontinued and only limited quantities remain in stock. If we cannot fulfill your color request we will substitute the Plastic Dome Lid with Square Door. Click here.
Note: For all lids, please confirm the inside diameter (I.D.) will fit the outside diameter of your receptacle. Some lids may fit more closely than others.
Note on Colors: We have only a few Brown, Red and Yellow lids left. Gray and Blue lids are still available in some quantity. (The Black color is now out of stock). All inventory is subject to prior sale and cannot be restocked.

Model
Number

I.D.

O.D.

Use with these Receptacle Holders

CN-4455

24"

24-3/4"

TRH-32, TRH-55 (fits on barrel inside), CN-AMR-32, CN-R/R-32, CN-R/D-32, CN-R/SS2-36, CN-R/SS2-36D, CN-EXP-52, CN-R/SP2-32, CN-TR-52, CN-R/SS3-36, RA's,
55 gallon barrels