Tilting Trash Receptacle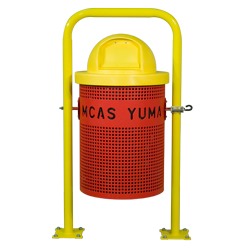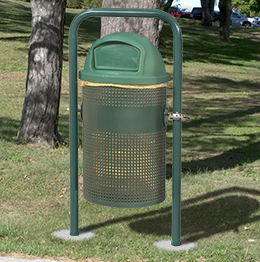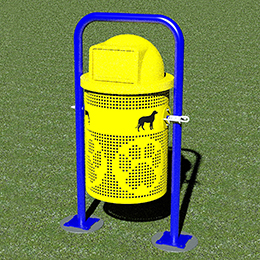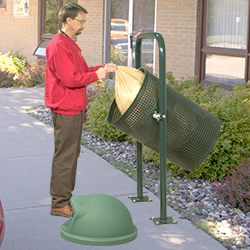 Price Per Unit Starts At:
Model CN-TR-52 Tilting Trash Receptacle features a collection basket which is suspended approximately 13" off the ground for convenient public access and easier grounds area maintenance and unloading.
The weight of the perforated steel basket is supported by the yoke. The twin pedestal support can withstand public exposure. The basket can be locked in the vertical, collection position or tilted to a 60-degree angle for unloading. No heavy vertical lifting - the 60-degree tilt makes it easy to slide the trash bag out.
The Solid band around the basket provides a visible area for custom signage which can either be cut into the basket or can be decals.
Specifications:
CAPACITY: R-Type perforated steel basket has approximate 52 gallon capacity. No separate liner is required - use your disposable garbage bags inside.
RECEPTACLE FINISH: Thermo-plastic coated in your choice of color. See Material Options.
FRAME: Support yoke is single piece 2-3/8" OD steel pipe with twin pedestal support. Commercial grade spring-loaded pin holds the basket in vertical or 60-degree tilt position. Model CN-TR-52 has embedded post installation. Model CN-TR/P-52 has surface mount, bolt-down base plates. Two sets of #ANC1-4 concrete anchor bolts are included.
FRAME FINISH: Powder coat paint in your choice of color. See Material Options.
OPTIONAL: The solid band around basket provides a visible area for custom signage - cut into the basket or adhesive decals. See Custom Signage.
OPTIONAL: Band-It trash bag loop to hold your trash bag in the basket. See Band-It.

OPTIONAL: Your choice of trash or recycling lids. See Receptacle Lids.
OPTIONAL: Cover Caps, two-part aluminum caps to cover bottom of frame post for Model CN-TR-52 with embedded post installation only. You will need (2) #CC-1 cover caps per unit. The caps will be powder coated to match the frame finish. Click here to add Cover Caps to your Quote Cart.
OPTIONAL: Model ANC1-4 Anchor Kit (Remember: 2 anchor kits are included with receptacle)