TRH-55/SO - Side Opening Trash and Recycling Receptacle Kit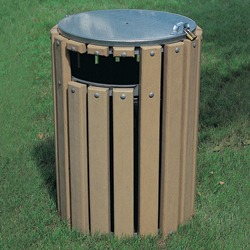 Price Per Unit Starts At:
Series TRH Trash Receptacles are an attractive way to collect trash or recyclables while disguising and protecting the liner inside from abuse and vandalism.
Model TRH-55/SO features one side opening to deposit trash.
Model TRH-55/SO2 includes two side openints opposite each other.

This series also has coordinating Planters.
Specifications:
Model TRH-55/SO Kit Includes:
TRH-55/SO Receptacle

TG-27X flat lid

HHG-2 Hinge/hasp kit to attach the lid to top frame ring

One (1) brass padlock to secure lid

CN-4132C light duty 30 gallon rigid plastic liner.

One or Two side openings.
FRAMES: TRH Series frames include a top and bottom ring; both rolled using 10 ga. steel with a formed flange for strength. The base ring is reinforced with die-formed cross braces. These braces also serve to keep the container inside the TRH up off the ground. Galvanized fasteners included. The base frames include (3 or 4) 9/32" dia. holes in flange to allow anchoring to a concrete surface with appropriate anchors. (Anchor bolts are not included-use 1/4" x 2-1/4" concrete screws).
FRAME AND LID FINISH: Standard finish: Hot dip galvanized after fabrication for maximum protection. Or choose power coated (in place of galvanized finish) in your choice of color. See Material Options.
MATERIALS: 2"x 4" slat material: pressure treated #1 southern yellow pine OR 100% recycled plastic slats available in choice of colors. See Material Options.
OPTIONAL: Stationary mounts are available. See Stationary Mounts.
OPTIONAL: Custom engraving is available on recycled plastic slats. See Accessories.