Elevated Pedestal Mounts for Most 52 and 55 Gallon And Amherst Collection Receptacles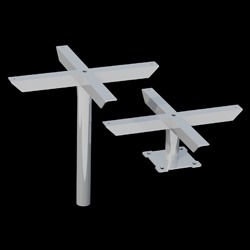 Price Per Unit Starts At:
Elevated Pedestal Mounts support trash receptacles 8" above ground which secures your receptacles, keeps them stationary and simplifies maintenance under and around them. Both embedded and surface mount pedestals are available.
Fits the following Receptacles:
• CN-AMQ
• CN-AMR
• CN-R/D-52
• CN-R/D-55
• CN-R/R-52
• CN-R/R-55
• TRH-55
Specifications:
A 2-3/8" OD steel pipe base post, welded to 4 structural steel angle cross arms which bolts to the cross braces in the base ring of the trash receptacle holder (fasteners included).
INSTALLATION: Model M8 post is embedded into a concrete footing. Model M7 is surface mount. Post includes a 1/4" x 8" x 8" square base plate to be anchored to surface (anchor bolts not included).
FINISH: Hot dip galvanized finish is standard. Or choose powder coat paint in your choice of color. See Material Options.
OPTIONAL: Model ANC1-4 Anchor Kit
OPTIONAL: Cover Caps, two-part aluminum caps to cover bottom of mount post. You will need (1) #CC-1 cover cap per M2 or M8 embedded post mount. The natural cast aluminum finish will match the galvanized mount finish. The cover caps can also be powder coated to match that finish on the mount. Click here to add Cover Caps to your Quote Cart.