Varmint Defiant Trash Can Cover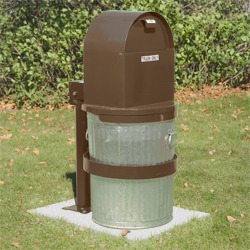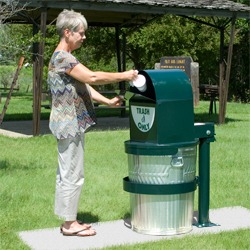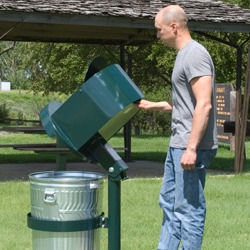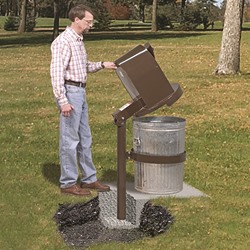 Price Per Unit Starts At:
Model CN-VDT Varmint Defiant Trash Can Cover keeps all kinds of varmints, critters, small animals and other assorted pests out of your trash. The heavy weight hinged cover holds your steel can down and in place. The retainer ring keeps animals from knocking the can out at the bottom. This Cover keeps trash out of reach and puts the door at a comfortable height for depositing trash.
Specifications:
CONSTRUCTION: Heavy gauge welded steel.
COLORS: Brown powder coat finish is standard. Or choose from other powder coat finish colors. See Material Options.
INSTALLATION: Model CN-VDT-32 features a 3-1/2" OD x 1/8" steel wall post to be embedded into concrete footing. Model CN-VDT/P-32 has a bolt down base plate attached to the post and includes anchor kit #ANC5-4 set of (4) ½" x 5" concrete screw anchors.
OPERATION: Pull the front door open and its tail closes the throat of the lid. No animal can pull open the door and reach down into the trash can. Place your trash inside the door. When it closes your trash drops into the can. The front door is weighted and balanced to close on its own.
To remove trash, pull the top backwards and it latches in the open position. Lift trash can up, out of the retainer ring, empty and replace. Lower the lid and padlock closed.
SECURITY: The top can be padlocked in the down position so only authorized persons can lift it and empty trash. Padlock is included.
DECALS: A set of decals is included.
OPTIONAL LINER: We recommend using Federal Duty trash can Model CNG-WHD32C (not included, order separately). This heavy weight galvanized steel can is strong enough to deter most animals.
RATING: THIS ITEM IS NOT RATED TO BE BEAR RESISTANT. LARGER BEARS MAY BE ABLE TO CRUSH YOUR METAL TRASH CAN.
OPTIONAL: Band-It trash bag loop to hold your trash bag in place. See Band-It Loops.
You May Also Like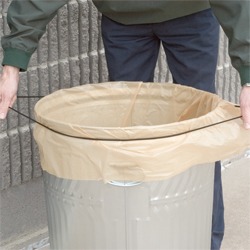 Band-It Premium Elastic Trash Can Loop
SKW: CN-BANDIT44455
Holds plastic trash bag in place.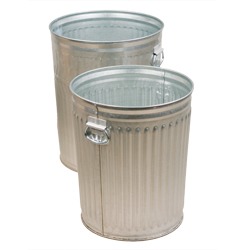 Federal Duty Galvanized Steel Trash Cans with or without Lids
SKW: CNG-WHD
23 ga. galvanized steel trash can with or without Lid.