Contour Park Bench - Multi-Pedestal - WRB Series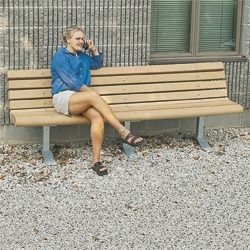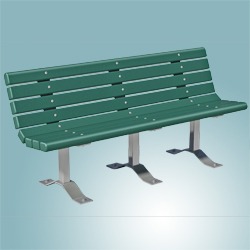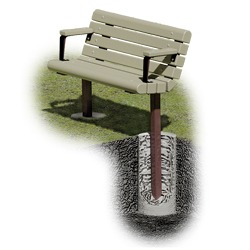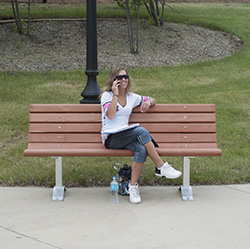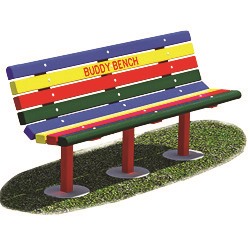 Price Per Unit Starts At:
Model WRB Park Bench uses multiple leg posts and a full contour seat designed for both strength and comfort.
BUDDY BENCH: The WRB Series Contour Benches with 100% recycled plastic seat timbers can be transformed into a durable and "green" Buddy Bench by engraving your Buddy message into the recycled plastic timbers. Add the option for resin filled letters to really make your message pop with your choice of 10 colors of plastic.
Specifications:
FRAME: Model WRB Park Benches offer all welded frame construction using 2-1/2" sq. steel tube for leg post, 3/8" thick steel for the seat bracket and the portable model frame foot.
INSTALLATION: Model PWRB can be either portable or surface mounted (anchor bolts not included). Model SWRB provides stationary/embedded frame post for a permanent installation.
FINISH: Hot dip galvanized finish and galvanized fasteners maximize protection from the elements. Or select the optional powder coated frame finish in your color choice.

LENGTH: Model WRB Benches can be 4, 6 or 8 ft. long, using 2 or 3 frames (depending on seat material).
SEAT & BACK MATERIALS: 3" x 4" (nom.) 100% recycled plastic or construction heart redwood timbers.
See Material Options.

Indonesian Balau Wood is no longer available. Our supply has been depleted and it is cost prohibitive to replace.

OPTIONAL: Armrests can help make benches more accessible. See Armrests for Park Benches.
OPTIONAL: Engraved personalization on recycled plastic, or custom laminate plaques are available on lumber and recycled plastic. See Accessories.
OPTIONAL: Model ANC1-4 Anchor Kit (for 2-frame benches) or Model ANC1-6 Anchor Kit for 6' and 8' benches (with 3 frames) using Recycled Plastic.

California's Proposition 65.