Gibraltar Park Bench - GBA Series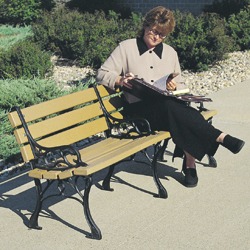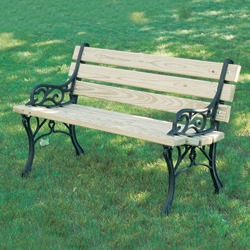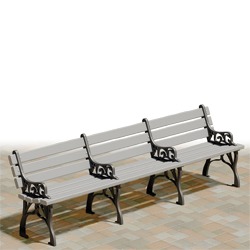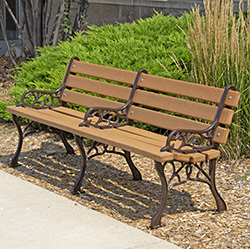 Price Per Unit Starts At:
NOTE: Only a limited quantity available. This bench design will be discontinued when current inventory is sold. Contact our Customer Service Dept. for current availability. Subject to prior sale.

The Gibraltar Bench is a traditional looking bench using cast Aluminum frames.
Coordinates with TRH Series Trash and Recycling Receptacles and Model P-10 Planters.
Specifications:
FRAME: Model GBA Park Bench uses ornate, cast aluminum frames.
INSTALLATION: Portable design. Frame feet include anchor holes for fixed surface location. (Anchors not included.)
FINISH: Frames are finished with standard black powder coat paint. Optional colors are available.
LENGTHS: The Gibraltar Park Bench is available in 4, 6 or 8 ft. lengths.
SEAT & BACK MATERIALS: Choose 2" x 4" (nom.) seat/back planks of pressure treated #1 southern yellow pine (the 8 ft. bench uses 3 frames). Or select 2" x 4" (nom.) seat/back planks of 100% recycled plastic (the 6 ft. bench uses 3 frames, the 8 ft. bench uses 4 frames). See Material Options.
OPTIONAL: Engraved personalization is available on recycled plastic. Rectangular plastic laminated plaques can also be recessed into a backrest plank on lumber or recycled plastic. Note: the 3rd or 4th frame on some benches will affect the placement of engraving or plaques. See Accessories.
OPTIONAL: Model BR-4HSA Anchor Kit

California's Proposition 65.
You May Also Like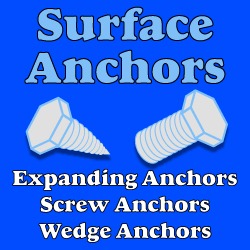 Model BR-4HSA Concrete Bolt Sleeve
SKW: BR-4HSA
Four 3/8" x 1-7/8" Concrete Bolt Sleeves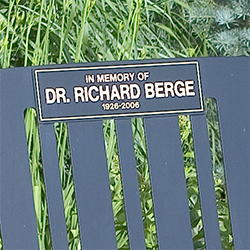 Plaques for Park Benches
SKW: ACC::
Customize your bench with Laminate or Cast Metal Plaques.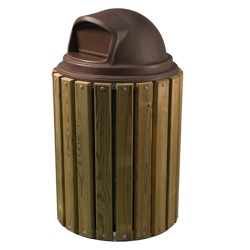 Round Trash and Recycling Receptacles - TRH Series
SKW: TRH
An attractive way to collect trash or recyclables. CLICK TO SEE MORE.