Riverview Bench - All Steel Flat Seats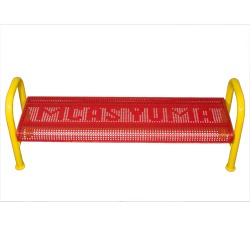 Price Per Unit Starts At:
The B70 Series streetscape and park bench design includes a large steel tube frame structure with wider curves for a simple, clean and comfortable appearance. The integral armrests make both the contour and flat benches an attractive site feature.
Specifications:
FRAME: All B70 Series frames are a single piece welded unit using 2-3/8" OD steel pipe for leg posts and armrest. Seat attachment brackets are 7 ga. steel angles.
INSTALLATION: Models B76 and B78 are surface mounted and include bolt holes in the frame base plate. Optional: Model ANC3-4 Anchor Kit. Models B77 and B79 are designed for embedded post installations.
FINISH: Frames are powder coated in your color choice.
LENGTH: Contour style or flat designs are available in 4, 6 and 8 ft. lengths.
SEAT & BACK MATERIALS:
Expanded Steel is 3/4-#9 expanded steel (diamond shaped holes) with a thermoplastic coating.
Perforated Steel is 14 ga. perforated steel (round holes) with a thermoplastic coating.
Cut Steel Plate is 10 ga. laser cut steel plate with a thermoplastic coating.
Steel Strap is heavy gauge steel straps welded into a single piece seat with a powder coat finish.
All coatings are available in a variety of color choices. See Material Options.
OPTIONAL: Cover Caps, two-part aluminum caps to cover bottom of frame post. You will need (4) #CC-1 cover caps per bench. The caps will be powder coated to match the frame finish. Click here to add Cover Caps to your Quote Cart.