Riverview Bench - Flat Seats in Wood or Plastic.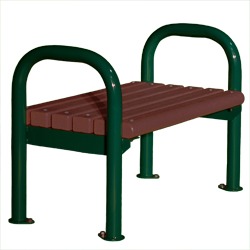 Price Per Unit Starts At:
The B60 Series streetscape and park bench design includes a large steel tube frame structure with wider curves for a simple, clean and comfortable appearance. The integral armrests make both the contour and flat benches an attractive site feature. The B60 Series of benches is available with lumber or 100% recycled plastic seat timbers.
Specifications:
FRAME: All B60 Series frames are a single piece welded unit using 2-3/8" OD steel pipe for leg posts and armrest. Seat attachment brackets are 7 ga. steel angles.
INSTALLATION: Models B60 and B62 are surface mounted and include bolt holes in the frame base plate. Optional: Model ANC3-4 Anchor Kit for Models B60 and B62. Models B61 and B63 are designed for embedded post installations.
FINISH: Frames are powder coated in your color choice.
LENGTH: Contour style or flat designs are available in 4 and 6 ft. lengths using lumber, or 4 ft. lengths using 100% recycled plastic seat timbers.
SEAT & BACK MATERIALS: Seat timbers are 3" x 4" (nom.) colorful 100% recycled plastic, or construction heart redwood. See Material Options.
Indonesian Balau Wood is no longer available. Our supply has been depleted and it is cost prohibitive to replace.
OPTIONAL: Model ANC3-4 Anchor Kit for Models B60 and B62.
OPTIONAL: Cover Caps, two-part aluminum caps to cover bottom of frame post. You will need (4) #CC-1 cover caps per bench. The caps will be powder coated to match the frame finish. Click here to add Cover Caps to your Quote Cart.

California's Proposition 65.
You May Also Like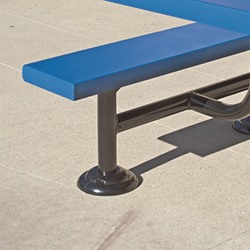 Cover Cap for Bench, Table, Bike Rack Posts and More.
SKW: CC
Cover Caps add a finishing touch to base posts or frame legs.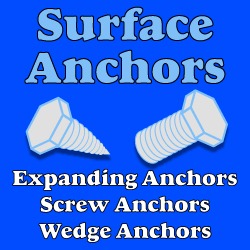 Model ANC3-4 Anchor Kit
SKW: ANC3-4
Four 3/8" x 3" Concrete Screw Anchors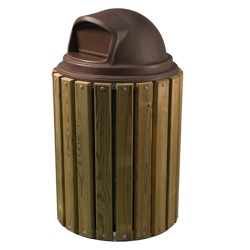 Round Trash and Recycling Receptacles - TRH Series
SKW: TRH
An attractive way to collect trash or recyclables. CLICK TO SEE MORE.