Sign Bench - B400 Series Contour Seat- Your custom sign is the backrest.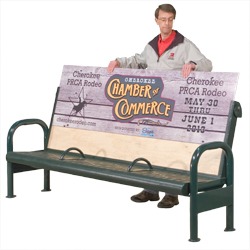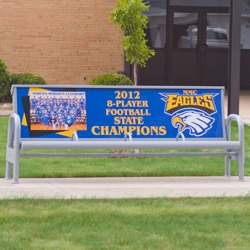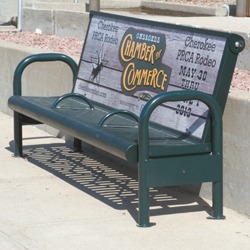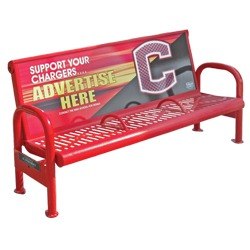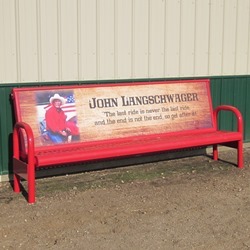 Price Per Unit Starts At:

Model B400 Sign Bench – with Contour Seating. Get the word out. Promote an event. Recognize achievement, a donation or memorial. Advertise your business. Generate revenue by selling the sign space on the back of the bench. The Pilot Rock Sign Bench lets you do all this and more. The Sign Bench is built to be a public use bench with durable features.
BUDDY BENCH: The B400 Series and B410 Series Sign Benches can become a fun and attractive Buddy Bench with your custom "buddy" message and colors and graphics for the backrest.
Specifications:
FRAME: Frame legs are 2-3/8" OD steel pipe.
INSTALLATION: Model B400 is portable/surface mounted (Anchor bolts not included - use Model ANC3-4 Anchor Kit). Model B401 has embedded frame posts for a permanent installation.
FRAME FINISH: Powder coat frame finish in your choice of color.
LENGTH: Series B400 Sign Benches can be 4, 6 or 8 feet long.
SEAT & BACK MATERIALS: All steel fabrication with 10 ga. cut steel formed contour seat and sign frame. The seat and sign frame are then thermoplastic coated in your choice of color. Seat dividers (bolt on) are included on the 6 ft. and 8 ft. benches. See Material Options.
BACKREST SUPPORT: The sign frame includes a black painted 3/4-inch MDO sign board back support for sign.
CUSTOM SIGN: The optional custom sign is 24 inches tall by 4 ft., 6 ft. or 8 ft. long depending on the length of your bench. Your optional custom made Pilot Rock Sign features: .040 ga. Alumilite aluminum laminate, with a 1/4" thick, polycarbonate core, a 3M vinyl digitally printed graphic material, and a 3M protective lamination over the graphic. You can order/reorder from Pilot Rock Signs or your local sign company (use max. 1/4" thick material). Contact our Customer Service Dept. for assistance in designing your custom sign.
SIGN FRAME: Your custom sign graphic can be replaced as often as you want. Just open the top cap and slide it out. The hinged top cap closes the sign frame and can be padlocked to secure the sign (padlocks not included - Model PL-1 Padlock - requires 2). The sign cannot be removed when cap is closed.
ADDITIONAL SIGN SPACE: The B400 Series Sign Bench also includes steel plates on the bench frames for a custom decal if desired (use to identify a bus stop, street address, ownership, etc.).
WARRANTY: (5) years on bench frames, seat and sign frame. (8) years warranty on sign material against delamination only.
OPTIONAL: If you would like to get your Sign Bench and your custom sign from Pilot Rock go to Accessories/Custom Signs, select the appropriate sign for your bench and add it to your Quote Cart along with your bench.
OPTIONAL: Cover Caps, two-part aluminum caps to cover frame foot or bottom of frame post. The natural cast aluminum finish will match a hot dip galvanized frame finish. Or the caps will be powder coated to match the frame finish. You will need (4) part #CC-1 cover caps per bench Click here to add Cover Caps to your Quote Cart.

You May Also Like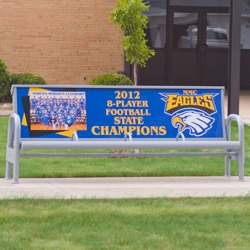 Custom Signs for B400 Contour Seat Sign Benches
SKW: SIGN::
Select the Custom Sign size to match your Sign Bench length.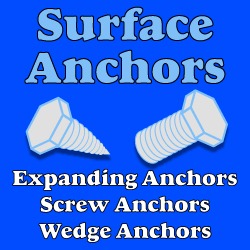 Model ANC3-4 Anchor Kit
SKW: ANC3-4
Four 3/8" x 3" Concrete Screw Anchors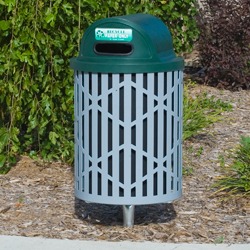 Round Receptacle - Cut Steel Plate
SKW: CN-R/SP2
Steel plate cut with an attractive pattern makes a very durable trash receptacle.