FSWS-30 Accessible Stainless Steel Campfire Ring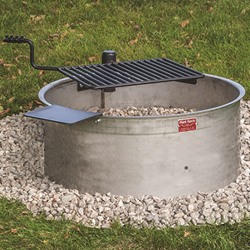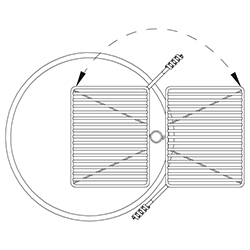 Price Per Unit Starts At:
The FSWS Series Campfire Ring is rolled using 11 ga. (1/8" thick) stainless steel with a 1" roll formed top flange for additional strength and safety. Draft holes are provided for ventilation. The ring is not painted.
The FSWS-30 accessible firering is available in two side heights: 17 and 23 inches. See chart below.
Standard: 300 sq. inch single level swivel cooking grate, will move 180 degrees – from over the fire to completely out of the firering – for easy fire building and serving. The handle is never over the fire. Some installation required.
This swivel grate meets the ADA guidelines for reach and operability: one hand operation requiring less than 5 lbs. of force to move.
Swivel cooking grate is a single welded component using ½-inch dia. black steel bars, mounted on a 2-3/8-inch OD steel tube allowing it to swivel 180 degrees. Operator handle includes a 1/8-in. x ½-in. flat bar coiled spring grip. All grate bars are welded on both sides. Cooking grate components are finished with high temp non toxic black enamel paint.
Standard: three black steel pin anchors (PA) to secure the firering on site, into concrete footings (ring does not tip up).
OPTIONAL: three black steel bolt on spade anchors (AL) to secure ring on site, buried in ground (ring does not tip up).
OPTIONAL: S5 bolt-on utility shelf, black steel.


California's Proposition 65.
You May Also Like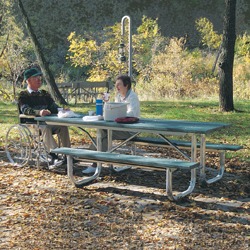 End Accessible Extra Heavy Duty Picnic Table - XT Series
SKW: XT::
ADA Compliant, can be accessible at both ends. For heavy use areas. CLICK TO SEE MORE.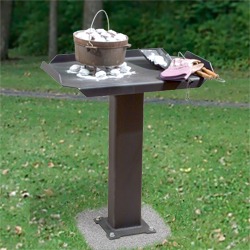 Model ULT-1 Utility Table
SKW: ULT-1::
18" x 30" table on a single embedded or surface mount pedestal.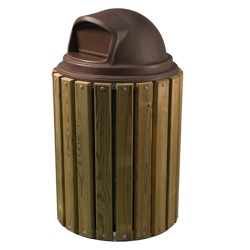 Round Trash and Recycling Receptacles - TRH Series
SKW: TRH
An attractive way to collect trash or recyclables. CLICK TO SEE MORE.