FSW/SL-30 SNOW LOAD Rated Accessible Campfire Ring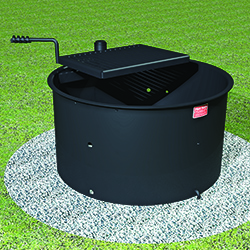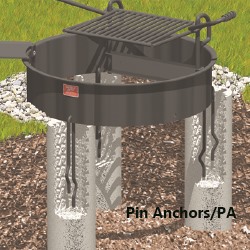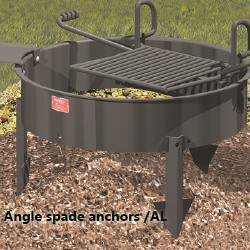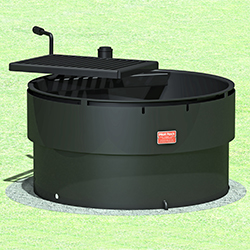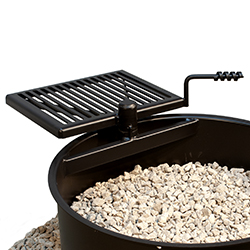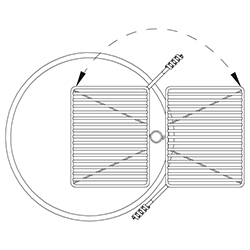 Price Per Unit Starts At:
The FSW/SL Series Campfire Rings are tested to withstand snow loads of over 569 lbs. per sq. ft. on the grate. The swivel grate is laser cut from 1/4-inch thick steel plate. A special 10 ga. channel brace is welded inside the ring to reinforce the swivel tube. This Swivel Grate design meets the ADA guidelines for one hand operation and requires less than 5 lbs. of force to move. The 300 sq. in. single level grate will move 180 degrees – from over the fire to completely out of the fire ring – for easy fire building and serving. The handle is never over the fire.
The fire ring is filled with aggregate (not included) to about 9" above the ground to provide the elevated fire surface needed for wheelchair access. This fill also insulates the ground to reduce the chance of root fires in heavily wooded areas. Drain/draft holes are provided around the perimeter of the campfire ring.

Fire ring is rolled from a 3/16" thick steel plate with an integral formed 1" wide flange around top edge. This flange provides extra strength against heat warpage and eliminates a vertical edge. Draft holes are provided for fire ventilation.

Model FSW/SL-30 Series Campfire Ring features a 30" inside diameter and is available in two side heights of 16-7/8" and 23-3/8".

The operator handle includes a 1/8" x ½" flat bar coiled spring grip. All grate bars are welded on both sides. All fire rings are finished with high temp non-toxic black enamel paint. Pin anchors provide a fixed location and must be set in concrete. The firering will not tip up.
OPTIONAL Anchor Systems:
Angle Spade Anchors (/AL) are 3 spades attached around the firering and buried in the ground. The firering cannot be tipped up.
OPTIONAL: Model S-5 Bolt-on Utility Shelf
OPTIONAL: Heat Shield (add /H to end of model number). An optional welded-on Heat Shield is available on some Pilot Rock campfire rings. This welded-on shield can be added to new Pilot Rock campfire rings to give protection from hot surfaces around the outside of the ring. The 10 ga. x 8" high Shield provides a 7/8" air gap around the area of these tall fire rings exposed to heat (the lower portion of these fire rings is filled with aggregate). NOTE: Not available on campfire rings less than 11 inches tall.

California's Proposition 65.
You May Also Like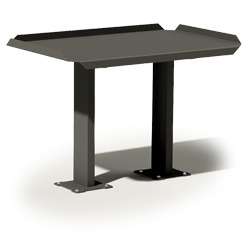 Model ULT-3 Utility Table
SKW: ULT-3::
30" x 48" table on two embedded or surface mount pedestals.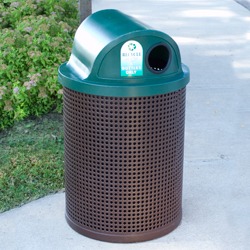 Round Receptacle - Perforated Steel
SKW: CN-R
Fabricated using perforated steel and available in 3 sizes.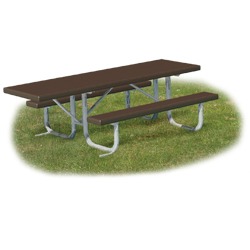 Snow Load/ Extreme Load Heavy Duty Accessible Picnic Table - XT Series
SKW: XT::
ADA compliant wheelchair access, extra heavy duty table snow load rated up to 948 lbs. per sq. ft.