Grill Station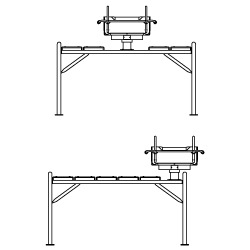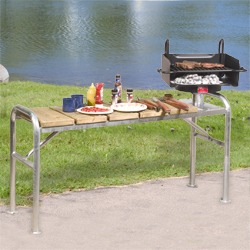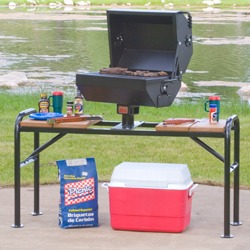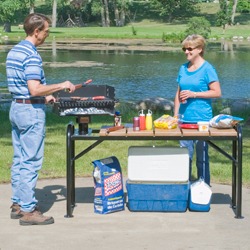 Model GS-5 is a unique concept in outdoor cooking - combining a charcoal grill with a work table to create one convenient Grill Station. No need for separate installations of a grill on a post and a utility table. Now it's all in one!
Specifications:
RUGGED CONSTRUCTION: 1-5/8 in. OD steel pipe end frames with welded-on brace and top frame bracket. Diagonal braces ensure a rigid, stable structure. Top frame is 1-1/2 in. steel angle, welded into single component.
FRAME FINISH: Hot dip galvanized is standard. Colorful powder coat paint is optional.

TABLE TOP: Built with (5) 2" x 10" (nom.) x 20 inch long planks, plus (1) grill mount plate. Choose lumber, colorful recycled plastic or aluminum planks for the table top.
FOOTPRINT: Model GS-5 Grill Station is 22-1/2 inches wide by 64 inches long (nom.) overall outside dimensions.
Work Space: 20 inches wide by 48 inches long (when grill is at one end).
WORK HEIGHT: Table height = 30-1/2 inches; Grill height = 36 inches to bottom of firebox (charcoals). Cooking grate height will vary depending on grill model chosen.
GRILL MOUNT: The grill can be installed at either end or in the center. (Note: a center location will reduce table top space to 2 planks per side.) The theft proof swivel attachment allows the grill to rotate 360 degrees for maximum cooking control.

GRILL CHOICES: The charcoal grill is sold separately. Any of the following Pilot Rock grill Models will sit on the Grill Station: Model ASW-20-2, A-20-2, B-24-2, EC-26/S-2, J-20-2, K-20-2, N-20-2, N-24-2, Q-20-2 or Q-24-2. (You can buy any of these grills without its standard base post B2.)
INSTALLATION: Surface mount flanges on each frame leg. Anchor bolt kit #ANC3-4 for a concrete surface is included.
OPTIONAL: Cover Caps, two-part aluminum caps to cover frame foot flanges. You will need (4) #CC-1 cover caps per Grill Station. The natural cast aluminum finish will match a hot dip galvanized frame finish. Or the caps will be powder coated to match the frame finish. Click here to add Cover Caps to your Quote Cart.
You May Also Like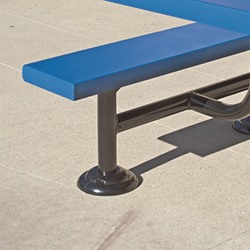 Cover Cap for Bench, Table, Bike Rack Posts and More.
SKW: CC
Cover Caps add a finishing touch to base posts or frame legs.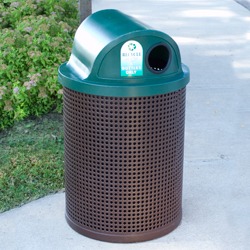 Round Receptacle - Perforated Steel
SKW: CN-R
Fabricated using perforated steel and available in 3 sizes.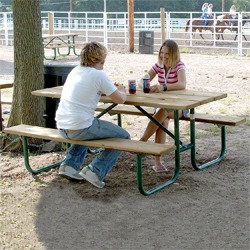 UT Series Picnic Table - Using Lumber
SKW: UT
Durable picnic table using Lumber, available in 4 lengths