Accessible Bench - B110 Series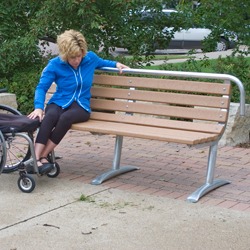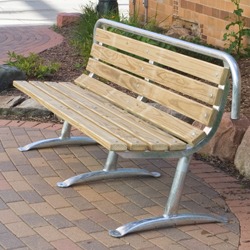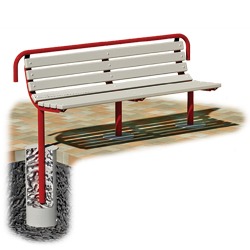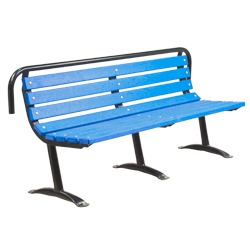 Price Per Unit Starts At:
The Accessible Bench incorporates the ABA and ADA suggested design guidelines for accessible seating. The full-length grab bar across the back of the bench enhances access and transfer to or from this bench. This is a unique adaptation of interior accessibility features to exterior furniture.

Specifications:

FRAME: All welded steel frame fabrication: seat/back support channel is die-formed from 1/8" thick (11 ga.) steel, frame post and portable/surface mount foot are made using 2-3/8" OD steel pipe.

FINISH: Hot dip galvanized after fabrication for maximum protection from the elements. Or, select a powder coat finish in your color choice.

SURFACE MOUNT: Model B110C Features: 6 ft. long, portable/surface mount frames, grab bar 35" high, seat width 20", seat height 18-1/2" (nom. dimensions), includes 9/16" dia. anchor holes in foot (surface anchors are not included). Use Model ANC3-6 Anchor Kit.

EMBEDDED MOUNT: Model B111C Features: 6 ft. long, embedded frame post installation, grab bar 35" high, seat width 20", seat height 18-1/2" (nom. dimensions).

SEAT & BACK MATERIALS: 2" x 4" (nom.) lumber, or 100% recycled plastic in your color choice.

OPTIONAL: Custom engraved lettering or plastic laminate plaques are available on lumber and recycled plastic. See Accessories.
OPTIONAL: Cover Caps, two-part aluminum caps to cover frame foot or bottom of frame post. The natural cast aluminum finish will match a hot dip galvanized frame finish. Or the caps will be powder coated to match the frame finish. You will need (3) part #CC-1 cover caps per Model B111C embedded post bench. Click here to add Cover Caps to your Quote Cart.

California's Proposition 65.
Note: Meets guidelines as presented in Federal Register, June 20, 2007, Part II Architectural and Transportation Barriers Compliance Board, 36 CFR Part 1195, ABA Guidelines for Outdoor Developed Areas; Proposed Rule: Part T213, T313 and T411. Also meets suggested design guidelines in ADA and ABA Accessibility Guidelines dated July 23, 2004, Chapter 9: Built-In Elements, Part 903 Benches.