T600 Series Caterpillar Picnic Table-10 ft. With 6 Short Seats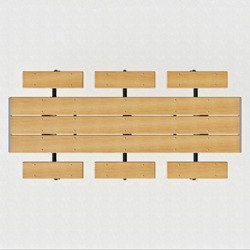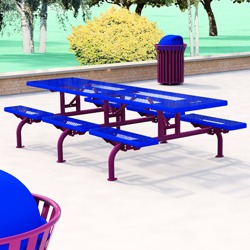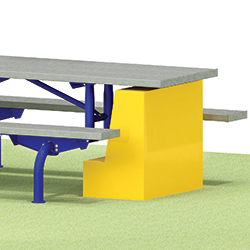 Price Per Unit Starts At:
T600 Series Caterpillar Tables have an elevated, open span frame design which creates a clear area under and around the table for easier clean-up. Installation is portable/surface mount (bolt down).

These tables provide ADA Compliant wheelchair access at both ends.

Specifications:

FRAME: Legs are 2-3/8" OD steel pipe formed and welded into single units (2.375" OD, 11 ga. wall, 2" ID nom. pipe specifications). Seat support brackets are 10 ga. welded steel plate. Diagonal braces are 1-5/16" OD steel pipe.
FINISH: Standard finish: hot dip galvanized after fabrication. Or choose a powder coat finish (in place of galvanized finish) in your color choice.

LENGTH: 10 ft. with 6 short seats with walk-in entry.

TOP/SEAT MATERIALS:
• 2" X 10" (nom.) untreated or pressure treated #1 southern yellow pine
• Aluminum
• Thermo-plastic coated D-Type expanded steel
• Thermo-plastic coated R-Type perforated steel
See Material Options.
OPTIONAL: Model ANC3-6 Anchor Kit
OPTIONAL: Cover Caps, two-part aluminum caps to cover frame foot flange. You will need (6) #CC-1 cover caps per T606-10 table. The natural cast aluminum finish will match a hot dip galvanized frame finish. Or the caps will be powder coated to match the frame finish. Click here to add Cover Caps to your Quote Cart.