Silver Sioux Bench B40 - Flat Seats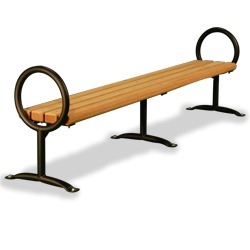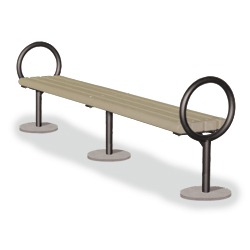 Price Per Unit Starts At:
The B40 Series streetscape and park benches include welded steel component frame fabrication for strength, incorporating round steel tube for armrests to provide a softer appearance.
Specifications:
FRAME: All B40 Series frames are all welded fabrication using 1-1/2" nom. steel pipe (1-7/8" OD) for the circular armrest and foot. Seat attachment brackets are 3/8" x 2-1/2" flat steel bar. All end frames have armrests for improved accessibility and comfort. Center Frame: 6 ft. long benches with recycled plastic and all 8 ft. benches will include a third center support frame without an armrest.
INSTALLATION: Models B40 and B42 are surface mounted and include bolt holes in the frame foot. Models B41 and B43 are designed for embedded post installations.
FINISH: Frames are powder coated in your color choice.
LENGTH: Contour style or flat designs are available in 4, 6 or 8 ft. lengths.
SEAT & BACK MATERIALS: Seat timbers are 3" x 4" (nom.) colorful 100% recycled plastic, or constructon heart redwood. See Material Options.
Indonesian Balau Wood is no longer available. Our supply has been depleted and it is cost prohibitive to replace.
OPTIONAL: Model ANC3-4 Anchor Kit for benches with 2 frames.
OPTIONAL: Model ANC3-6 Anchor Kit for benches with 2 frames and the center support.
OPTIONAL: Cover Caps, two-part aluminum caps to cover bottom of frame post for Model B41 and B43 benches with embedded post. You will need (2) or (3) #CC-1 cover caps per bench depending on length and material. The caps will be powder coated to match the frame finish. Click here to add Cover Caps to your Quote Cart.

California's Proposition 65.
You May Also Like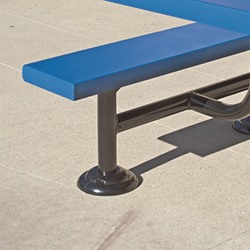 Cover Cap for Bench, Table, Bike Rack Posts and More.
SKW: CC
Cover Caps add a finishing touch to base posts or frame legs.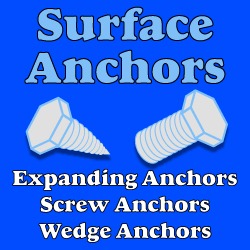 Model ANC3-4 Anchor Kit
SKW: ANC3-4
Four 3/8" x 3" Concrete Screw Anchors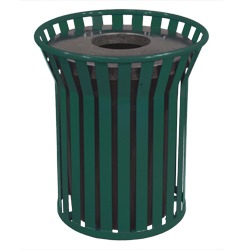 Round Receptacle - Vertical Steel Straps
SKW: CN-R/SS2
Designed to hold most available 30-36 gallon liners